Here are two more pictures from Brother Joseph and the Believers with him. Brother Udeme is in the first picture.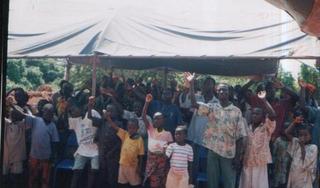 We sent a packet of pictures to them last week. We sent them 350 Ewe Tracts of JESUS IS ALIVE AND KNOWS YOUR NAME and some English ones, plus 350 stringed pictures, and 650 smaller wallet sized pictures, plus some 8x10s and DVDs of THE PASSION OF THE CHRIST, and a copy of the TNIV (Today's New International Version). Here is a picture of the packet we sent:
Here is the letter we sent to them with the packet. I know you all must join us with love for these brothers and sisters who love Jesus and desire to please Him with their lives. They have suffered, in Togo and now in Ghana, and we ask Jesus daily for provision for them.
As we were preparing to mail the packet, the Father said to Felicia that there will be a harvest for Him from this mailing to Ghana. Thank you, Father.